Scalable, high availability, affordable, easy to use, open source virtualization solutions for private clouds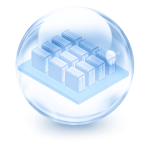 A private cloud is a cloud computing platform dedicated to your organization. Proxmox is an open-source server virtualization platform to manage two virtualization technologies: Kernel-based Virtual Machine (KVM) for virtual machines and LXC for containers – with a single web-based interface.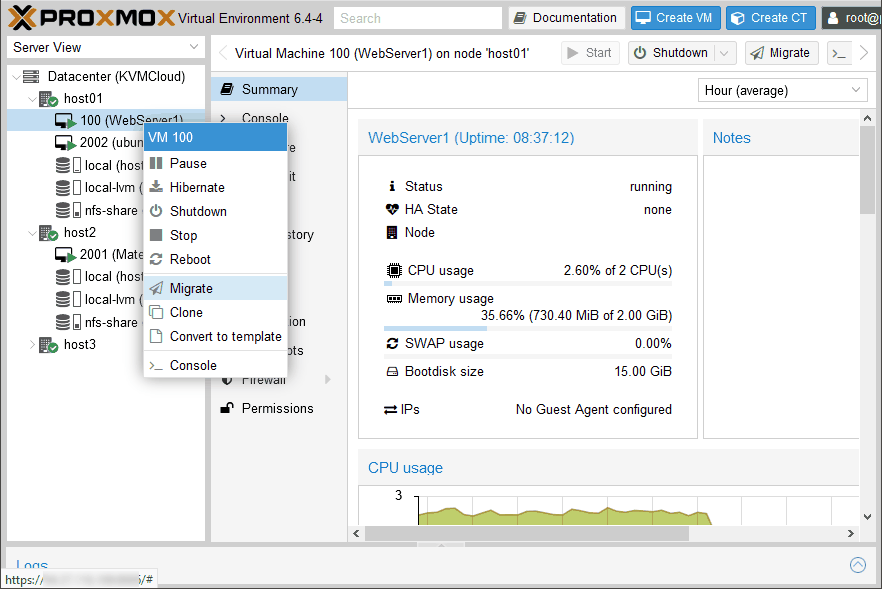 KVM Private Cloud Live Migration
The KVM Private cloud allows system administrators to move virtual machines from one physical host to another physical host without shutting down the virtual machine before the migration.  
In addition, with Highly Availability (HA)  enabled, in the event when a physical host is offline, virtual machines will be transferred to another host automatically. 

In order to have the HA feature, a minimum of 3 physical hosts and a Network Storage is required.
KVM Private Cloud console access
System administrators can access the console of the virtual machines in their KVM Private cloud with a browser. 
Or they can install a Spice client and access the console of the Desktop in multiple monitors like a 2 or 3 monitors setup.
With Spice client, local USB devices can also work directly on the remote VM in the KVM Private cloud (USB Pass through).   For example, you can program in the Arduino IDE inside the VM in the KVM Private cloud and upload it to the Arduino next to you at your local computer.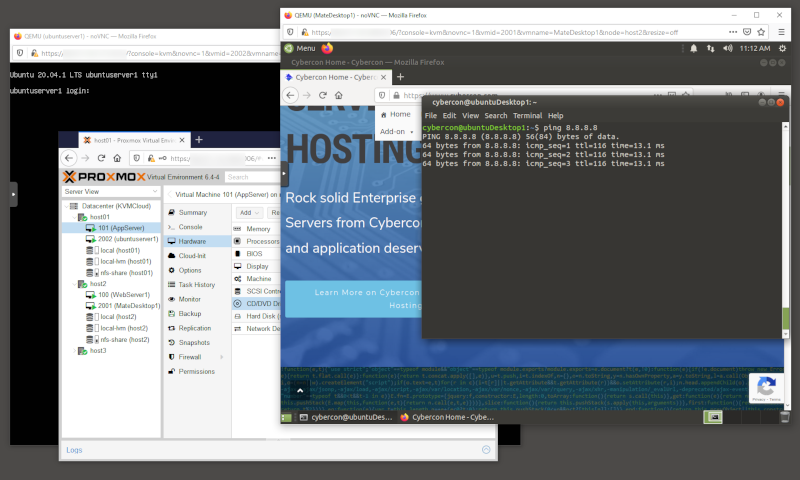 Most frequent questions and answers
A private cloud is a cloud computing platform dedicated to your organization. Cybercon data center hosted private cloud provides you the freedom to choose: network routers and switches, firewalls, server hardware, storage systems, and cloud computing software. Our solutions are built to give you the power to construct and manage clouds across your internal data centers and Cybercon data center — on terms that you control. That means you can keep a handle on compliance, security, and costs. And you can let your business needs drive your IT strategy, instead of having IT limit your options.
Cybercon's KVM private cloud hosting provides data center infrastructure, cloud computing hardware, KVM cloud software, and 24x7x365 live onsite tech support.
Private cloud can be built with complete redundancy and automatic failover: redundant Internet uplinks, redundant stackable switches, redundant firewalls with HA, redundant server hosts, redundant storage systems, and cloud computing software that support high availability and fault tolerant. For Cybercon managed hardware for your private cloud, we offer One Hour Hardware Replacement Guarantee! In the event of a hardware failure, Cybercon will repair or replace the failed parts or servers within one hour – 24 hours per day, 7 days per week.
We offer both 120 Volt and 208 Volt power sources to our private cloud hosting customers. We also offer dual power sources (A/B Power Sources) which are from two separate PDUs, two separate UPSes, two separate power generators with two separate ATSes, and two separate utility grids.